No doubt you have numerous images on your computer? The trouble with having lots of pictures is that you tend to collect duplicates along the way. Here are top five best duplicate photo finder listed to get rid of duplicate and similar photos. It would be a wise thing to manage space efficiently.
Finding similarly pictures and duplicate photos can become an overwhelming project. This is where duplicate photo finders come in. Remember that you should always backup all files before doing any deletion, which is a good practice to take regularly, for example to a DVD or an external hard drive. All software in this article is sorted from best to worst.
Editors Choice!
List of Best Duplicate Photo Finders and Cleaners – Easily Find Similar & Duplicate Photos
Top 15 Best Duplicate Photo Finder Softwares in 2023
Below we enlist the best duplicate photo finders and removers to eliminate junk, give the hard disk breathing space, and speed up the PC.
1. Duplicate Photo Finder: –
Duplicate Photo Finder looks for similarities in different images and easily finds duplicates and photos of the same pixels, rotated photos, flipped photos, resized photos, and edited images. It supports all popular image formats, including RAW, HEIC, JPG, PNG, TIFF, GIF, and much more, which means it won't miss a single duplicate on your computer.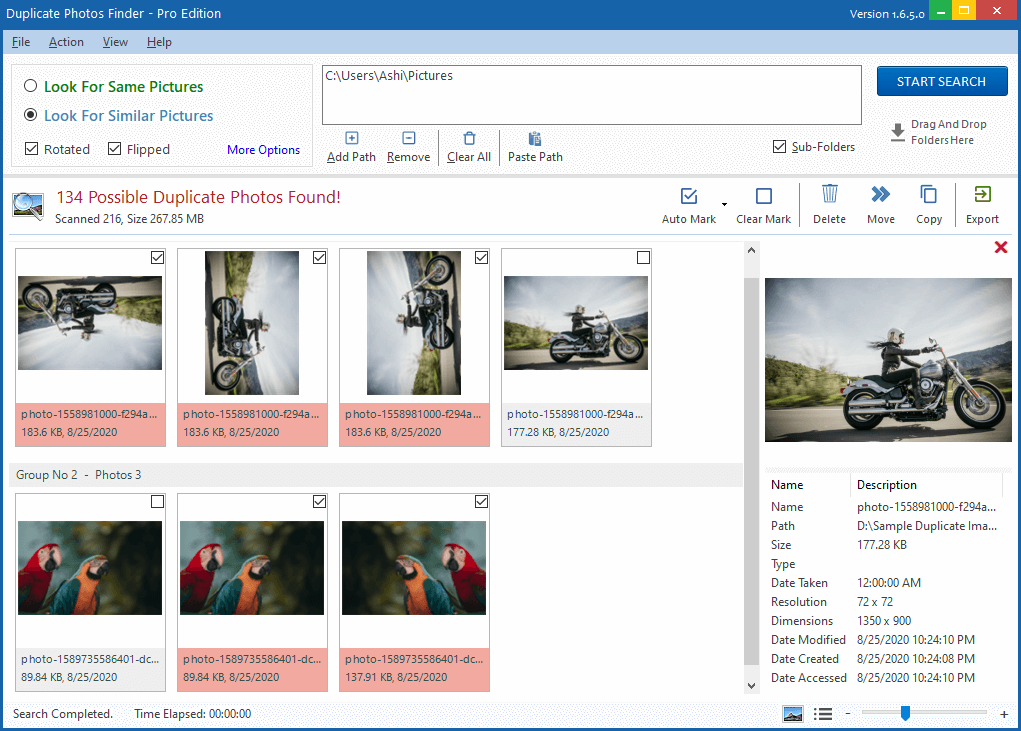 Duplicate files of all types can be a problem, especially if you're running low on disk space. By using Duplicate Image Finder, you can find and remove them easily.

---
2. Anti-Twin: -
Anti-Twin can use either byte-to-byte or pixel-to-pixel comparison to check for image similarity. Otherwise, you can activate name comparison, content comparison, or both. By default, Anti-Twin marks itself as a low priority process, but this can be changed by going to "Control" and unchecking the option. To select files for deletion in the result list, click the box left to the filename, and the symbol will change to a red X.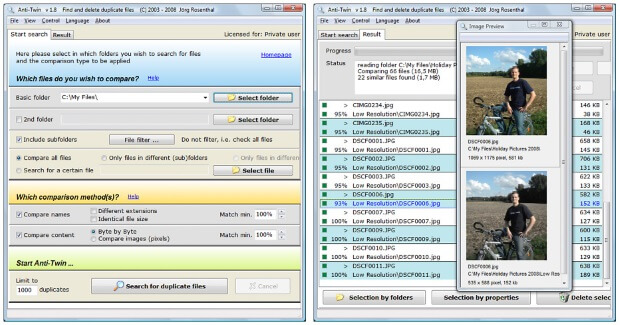 Anti-Twin is an excellent application to e.g., find and delete duplicate MP3 files in a download folder or find similar images. Apart from that, Anti-Twin helps you clean up employees' chaotic file repositories in company networks, e.g., by searching for unnecessary file copies and redundant data back-ups. Get It From Here
---
3. VisiPics 1.31: –
If you get too many pictures on your hard drive, downloaded, or photographed, you may have many duplicates from several different sources. In that case, you need a quick and easy to use program that finds and deletes all your duplicates.
The application allows you to search for duplicate images using three different filters; Strict, Basic and Loose.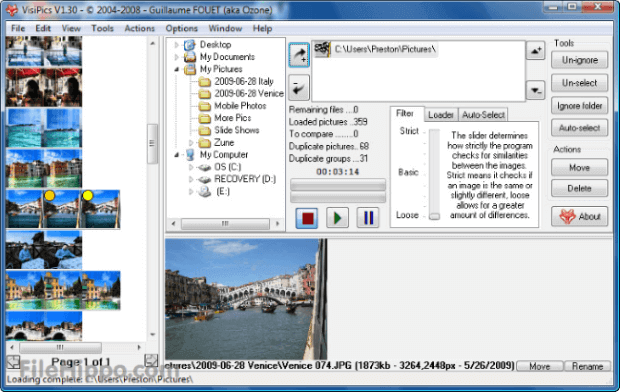 All detected duplicates are shown side by side with pertinent information such as file name, type, and size being displayed. It's auto-select mode let you choose if you want to keep the higher resolution picture, space-saving file type, smaller file size or all of the above. If you are insecure over what you really want to delete you can manually select the images you don't want to keep and delete them yourself.
VisiPics also allows you to search using the"Auto-Select" feature which will mark images with smaller, uncompressed, lower resolution copies as duplicate images.
---
4. Similar Image Search: -
Similar Image Search is a free software that lets you find duplicate images on your PC. It is a standalone JAR file and requires Java installed on your PC to run. It can search for duplicate image files in any selected folder. First, add the folder then click Library Search and then click Reverse Image Search from the sub menu. It will show you the list of duplicate images in the selected folder and you can easily delete them.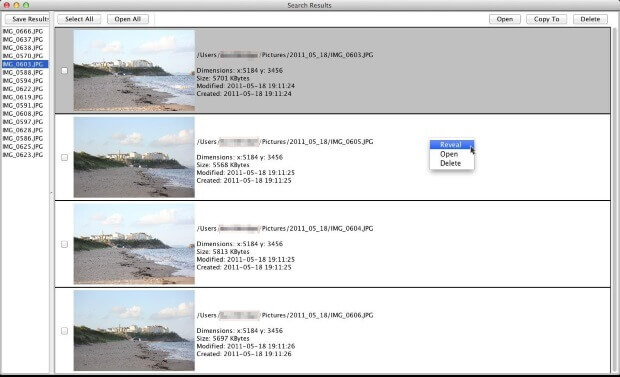 It's designed for photographers to sift through a memory card dump, searching for photos in batches for ease of sorting.
Requires: Java 7 Get It From Here
---
5. Awesome Duplicate Photo Finder: -
This program is very easy to use. You can do all you need with duplicate photos in just a couple of mouse clicks. Awesome Duplicate Photo Finder is able to compare resized pictures or even pictures with corrected colors (black and white photos etc.). It supports all major image types: JPG, BMP, GIF, PNG.
To start playing just drag some folders from the Windows Explorer into the program's window and click "Start" button, and have fun!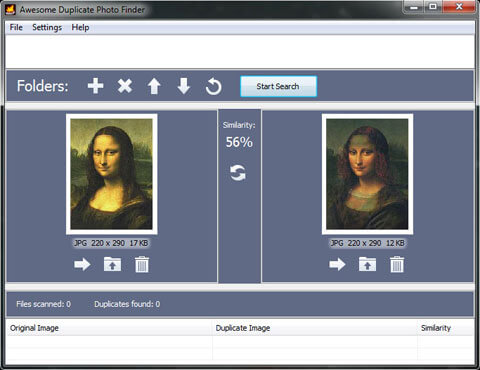 Requires: Windows 10 Get It From Here
---
6. Duplicate Photos Fixer Pro: -
Duplicate Photos Fixer Pro is a well-designed photo cleaner utility that helps you quickly find duplicate photos present on your computer. You can easily de-clutter your digital gallery and save a valuable amount of disk space. It offers a limited trial period, which makes it hard to decide whether you want to purchase the product or not.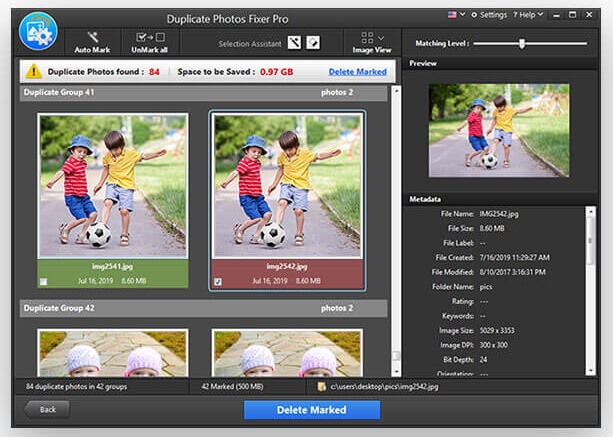 ---
7. Duplicate Photo Cleaner: -
Duplicate Photo Cleaner is another very fantastic tool for the users who are looking out to get the best duplicate photo finder and remover tool for their computer.
It supports all popular image formats including RAW and PSD, and has a scanning engine optimized for processing image files. In addition to that, Duplicate Photos Cleaner has a handy Preview feature that lets you preview the duplicates before you take any action so that you don't delete any photos by accident.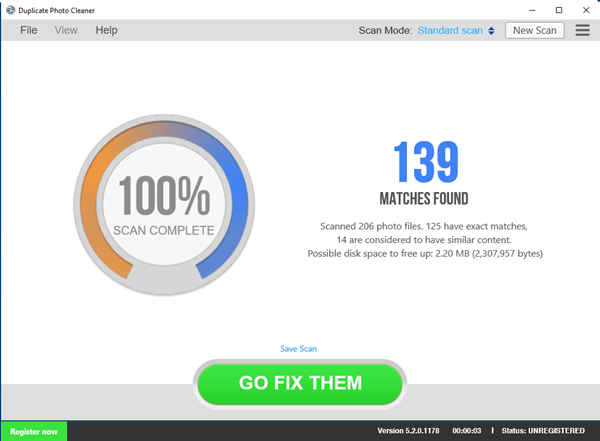 With unique abilities such as Adobe Lightroom and Same Subject scan, Duplicate Photo Cleaner comes next on our list of best duplicate photo finder & cleaner tools. Webminds developed this utility with a superior content-based duplicate photo comparison algorithm that helps provide highly accurate scan results. Below we have mentioned a few other praiseworthy features that make this software one of the best duplicate photo removers for Windows PCs.
---
8. PictureEcho: -
Picture Echo is a basic duplicate image finder for windows users. It can find similar and exact duplicate photos on your computer and drastically save time and money. It will find identical images easily, which can be deleted with just a click.
Easier software to get rid of duplicate photos from your computer. It supports the different file formats – jpg, jpeg, png, gif, BMP, tiff, ico. PictureExho is a good choice for photographers to remove identical and similar images; it also performs Adobe Lightroom Duplicate photo scans.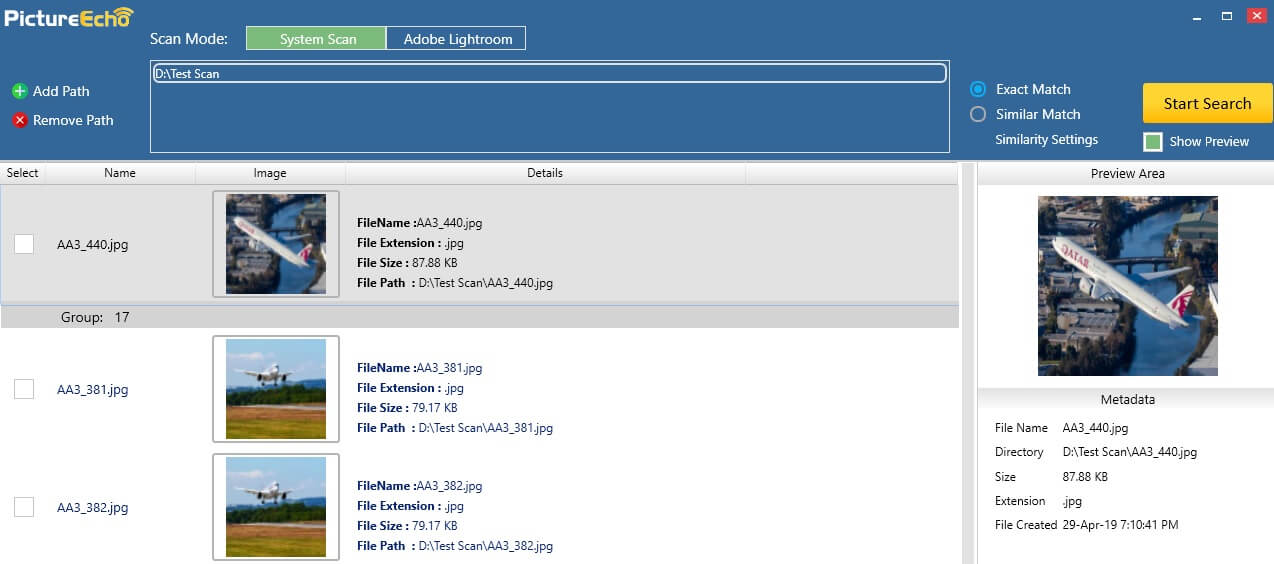 PictureEcho comes in two license modes: free and paid. The paid version has three different pricing plans: 1 PC ($39.97/ 1 PC), Family License ($49.97/3 PCs), and Small Business License ($69.97/ 10 PCs).
This tool has a special Adobe Lightroom scan mode for exact/similar photos, making it worth considering. PictureEcho is for users who wish to have a program with a modern-looking interface.
---
9. Quick Photo Finder: -
Finding and removing duplicate pictures has never been this easier, thanks to the Quick photo removers! Without further ado, let's look at these Quick photo finder and cleaner tools for Windows 11 in 2023 and get to know the perfect one for your Windows PC.
The premium version of the Quick Photo Finder costs $39.96 after a discount of 20%. There is also a completely free version available of this product. If you want a duplicate-free photo library in no time, then Quick Photo Finder is among the best duplicate photo finders and cleaner software you can use. This simple yet effective software not only helps remove unwanted copies of similar-looking images but also frees up ample storage space you forgot you had.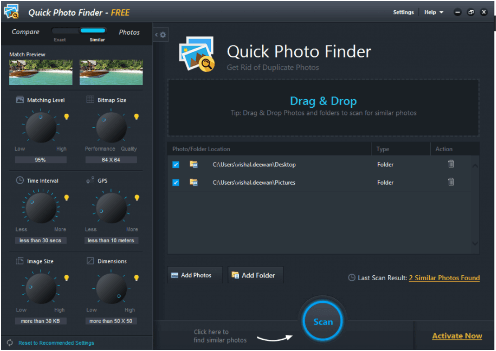 Quick Photo Finder comes with many intelligent duplicate photo cleaning tools, foremost to most others on this list. This program also hosts a user-friendly interface, making it the best duplicate photo remover for Windows 10/11 on the web.
It also comprises short and interactive in-app tutorials on how to identify & remove duplicate photos so that new users can perform the required actions effortlessly.
---
10. Visual Similarity Duplicate Image Finder: -
It is another highly effective and best picture deduplication software for beginners, experts, graphic designers, and individuals. The software uses advanced scanning algorithms to help you find and remove the files you don't need.
With more and more copies on your system, your storage space has become a complete mess, leading to reduced disk space & frequent slowdown. To overcome such issues, download this fantastic look-alike media remover and enjoy a decluttered library in a few clicks. It has an uncomplicated interface that makes finding and deleting identical and look-alike selfie images, portraits, and landscape pics an effortless process. This duplicate photo finder supports over 40 popular image formats and more than 300+ RAW camera photo formats (including CRW, CR3, NEF, DNG, etc.)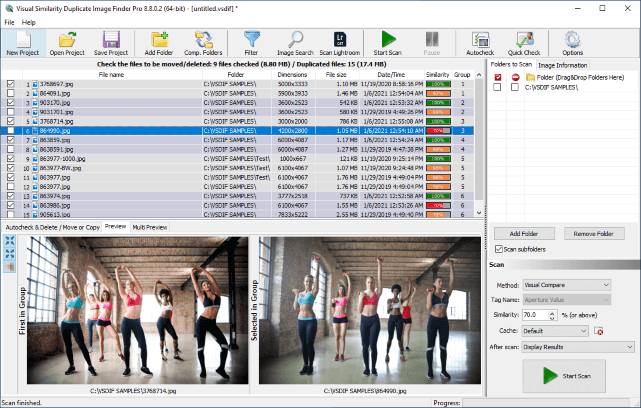 The interface of the Visual Similarity Duplicate Image Finder tool may feel cluttered to beginners because of the many confusing customization options or other unnecessary features. This image cleaner software may not be without some flaws, but overall, it optimizes PC by removing unwanted duplicates. Its powerful filter options, supported file types, and speedy performance are plus points.
---
11. Duplicate Image Remover: -
It is a comprehensive duplicate cleanup solution that offers advanced searching capabilities to find & remove identical & same photographs instantly. The search criteria for 'exact duplicates' is simple; it distinguishes the images based on the same format, size, name, and on. For detecting 'similar-looking photos', it detects snaps based on size, filters, volume, files with a different name, and so on, making it the best duplicate photo finder for Windows 11 right now.
This program quickly and easily helps you find and remove identical images on your computer. Similar pictures are spread across multiple folders or drives on your computer, and such photos take up disk space that affects the performance of your PC. Cleaning up the disc space and removing duplicate images and files timely and regularly is essential, and it will automatically and quickly find identical pictures and save you time. You only need to mark up unnecessary photos and images in the report and allow the program to remove duplicate ones.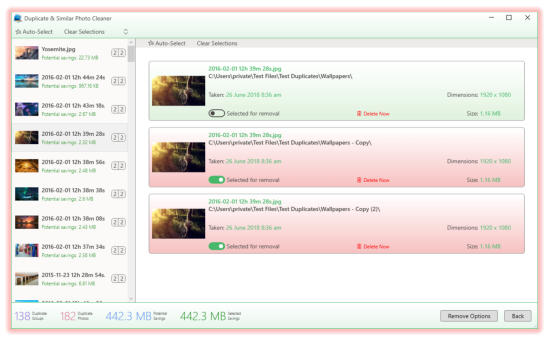 This software interface is simple and user-friendly, even for novice PC users. Duplicate photo finder has a minimalist design, so nothing disturbs you from the main program features - find and remove exact images. This free duplicate image finder can search in two modes - strictly identical or similar ideas. In the first case, the duplicate image finder searches for precisely identical images with the same format, size, name, etc. Otherwise, the duplicate image finder searches for ideas that may differ but simultaneously are the same images. For example, there may be two identical image copies of different sizes, names, shades of color, etc.
---
12. Remo Duplicate Photos Remover: -
The following software on our list is called Remo Duplicate Photos Remover. The software makes it easy for users to sort thousands of pictures and delete useless copies of identical or similar photos.
You can consider this software because it offers various features which help you in effectively scanning and accurately identifying duplicates. Moreover, you get an easy-to-use interface. One thing to keep in mind before using this software is that it's only free for smartphone users and requires a paid licensed version for Windows systems. Below we enlist a few of its features that users find quite impressive.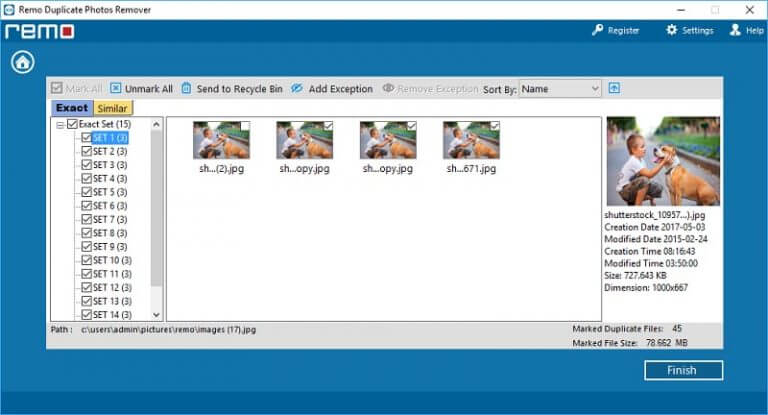 The Remo duplicate photo remover software has various plans for all the operating systems. For Windows and Mac, the software costs $19.97 for six months, whereas for Android and iOS devices, the software is free and can be downloaded from the respective stores.
The only downside of this duplicate photo remover software is that it offers no free trial or free version in Windows and Mac.

---
13. Wise Duplicate Finder: -
We download many songs, documents, images, and videos in our everyday lives. As time passes, the files will begin to fill the hard disk. You are often running out of space on your disk. Wise Duplicate Finder will aid you in finding and eliminating unnecessary duplicates and free the space on your disk. You can select any duplicates you can manage using Wise Duplicate Finder—for example, finding duplicate photos or videos, duplicate documents, and so on.
Wise Duplicate Finder is available in both free and paid versions. To access all options, you can buy one single unit of its premium model for $23.54/year.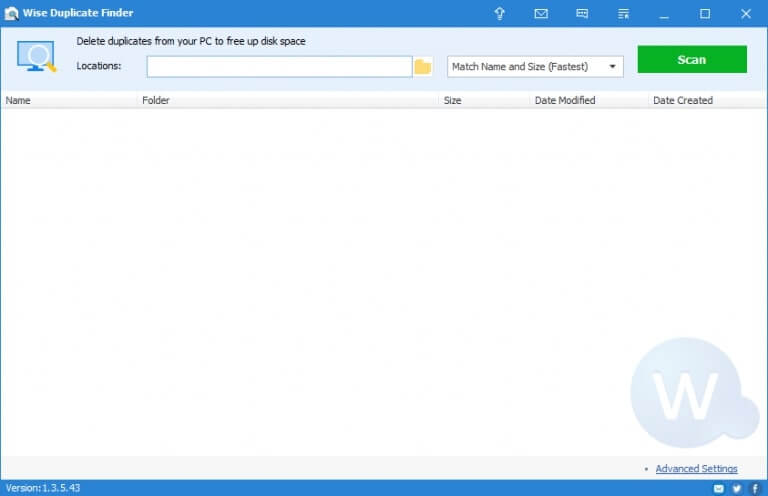 It's an excellent alternative for those seeking the most effective duplicate photo remover and finder software for the Windows PC. This software to manage duplicate photos is perfect for commercial and personal needs. Wise DuplicateFinder employs intelligent algorithms to assist you in getting rid of a plethora of duplicate files and free some disk space.
Wise Duplicate Finder is software for managing disks that scans your disk for duplicate files, including videos, images, and more. In removing(deleting) the duplicates, you will free up valuable disk space, and it's fast, precise, and straightforward to utilize.
If you have difficulty finding duplicates and deleting them, Please look up the complete instructions for Wise's Duplicate Finder.
---
14. Glary Duplicate Cleaner: -
The squandering of disk space can make the system sluggish and weak. Then, there is an urgent need for the most effective cleaner software for disks. A majority of disk space gets clogged due to duplicate photos. The human tendency to store many pictures in storage isn't a problem, even whether the images are similar. Additionally, duplicate photos cause the PC to run slower than it should; this is why it is essential to clear your PC regularly.
Furthermore, there is a market for these types of software. But, not all of the ones are worth trying. But, among them, we discover that Glary Duplicate Cleaner dominates the market. Therefore, we chose to review and test the program.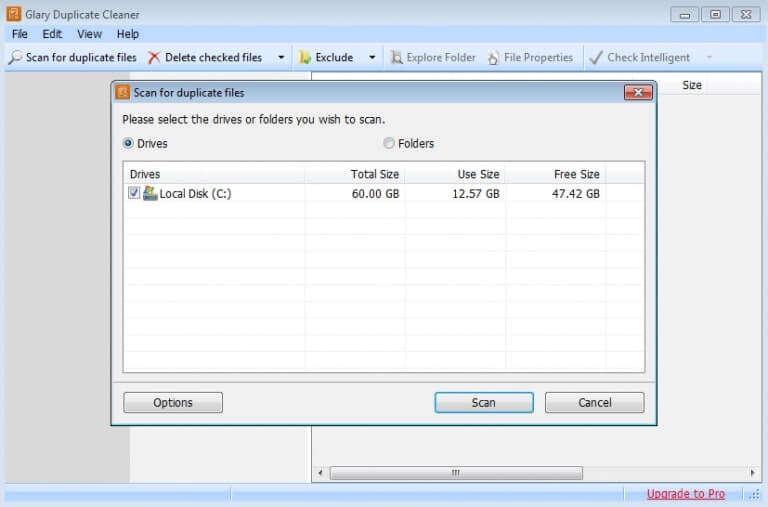 We will provide you with all the information about the program, its pricing or features, and its shortcomings. In order to avoid wasting your time, let's begin this review—Glary Duplicate Cleaner evaluation in 2021 by briefly reviewing the program.
Glary Duplicate Cleaner is an entirely free program to locate and eliminate duplicates from Windows 10 & previous versions of the OS.
The duplicate cleaner from Glarysoft, with beautiful design and simple-to-compare options, is among the top duplicate photo searchers available for Windows 10. This powerful tool comprises various robust duplicate cleaning programs that allow users to conduct thorough scans for duplicate files of all kinds, such as Word documents, images, and music videos.
---
15. Duplicate Cleaner: -
Whatever your occupation, it can be challenging to organize your computer. Images and videos you have transferred from other sources will be added to your computer as duplicates. Duplicate files can occupy a lot of space on your hard drive and slow down your computer. Many people believe it's a myth that storage is related to PC performance, and they know RAM plays a vital role in the performance of a computer.
Duplicate Cleaner differs from the other options because it offers more advanced options to search for duplicate data. It is easy to choose the basis on which duplicate photos you want to be found: Content, Filename and Similar File Name, Size, etc. This tool can help users find identical and similar-looking images, and it also helps users find duplicate documents and music files. The supported formats include MP3, OGG, and WMA. This best duplicate photo searcher for Google Photos is also available.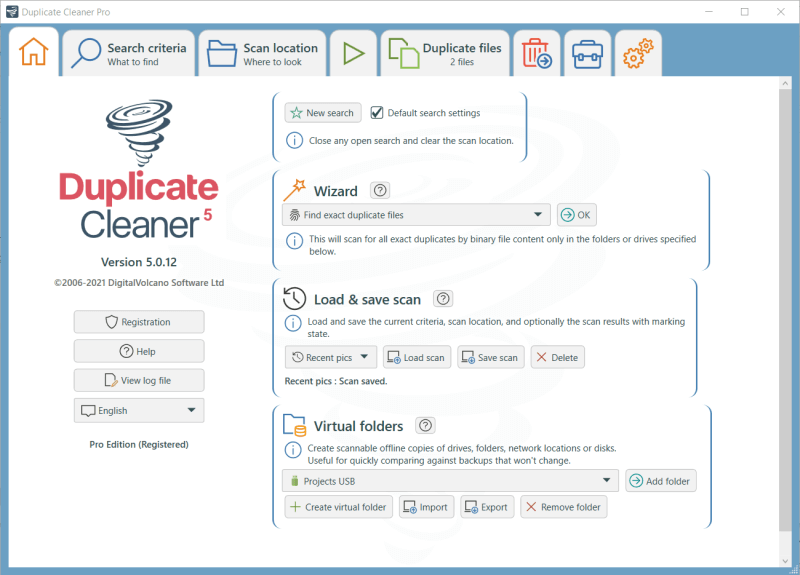 For a lifetime license, the pro version of Duplicate Cleaner 4 is $29.95. You can also try it for free for 15 days, but there are some limitations on the ability to remove duplicate files.
This best duplicate photo remover and cleaner software are recommended for all Windows users searching for a quick and easy way to delete duplicate files and images.
Duplicate Cleaner offers a free 15-day trial to test all features, but it does not allow you to delete files. The Pro version can be used for personal and commercial purposes, and this tool's advanced search filters can find duplicate files even within zip folders.
---
Conclusion
So, these were some of our favorite Duplicate Photos Finder tools. Some of them have excellent features on the table, such as giving users the scope to not only delete duplicate photos but also similar image files. However, they all are best in their own way!
So download and try any of them to get rid of unwanted duplicates, similar-looking photos, look-alike selfie images and more.
---
Duplicate Photo Removal - Frequently Asked Questions (FAQs):
---
Q. What Drives Identical Photos?
Not keeping the photo library organized is the primary reason for having unwanted photos on the pc, which leads to the hard drive running out of space, and also hinders the overall smooth functioning of the system. Another core reason for having similar photos is capturing photos continually in one chain to get one perfect click.
Q. Is there a quick way to find duplicate photos?
You can use a professional duplicate image finder tool like Duplicate Photos Finder and initiate a quick and comprehensive scan to catch and delete similar pictures in no time. The program offers a variety of checking levels so that you can get the most accurate results.
Q. Does Google Photos Automatically Remove Duplicates?
No, deleting duplicate photos in google photos is not available, and you need to use something that can find and remove them in Google Photos. Many options are available in the market now that support mobile scanning and other third-party platforms to quickly declutter your collection.
Q. Why Is It Necessary To Clean Duplicate Photos from PC?
Getting rid of unwanted copies of identical selfies and photos is crucial as they accumulate quickly, clutter up your hard drive, and make your PC run at a snail's pace.
Q. Does Windows 10/11 have a Duplicate Photo Finder?
No, Windows 10/11 doesn't come with an in-built tool like a duplicate picture finder. But there are many tools that you can use to find and remove them quickly.
Q. How Can I Find Similar Images in External Drive?
Finding and deleting duplicate files from external devices (e.g., pen drives, external hard disks, USB flash drives, SD cards, and many others) is an effortless process. All you have to do is download any professional cleaner tool shared above, check whether it supports external storage, attach the device and initiate the scan on your PC.
Q. How to Find Duplicate Photos in Lightroom?
Adobe Lightroom software doesn't have built-in functionality to locate similar/ exact duplicate images. But, a range of plugins available on the web can help you find duplicate photos in Lightroom Classic. One such plugin is Lightroom Duplicate Finder (paid /$13.99). It is free to try, but you'll need to purchase a license key to unlock its full functionality.
Q. What is the best free Duplicate photo Finder for Windows 11?
After performing deep research and comparing all the available programs based on their features, ease of use, and other essential parameters, we found Duplicate Photo Finder (editor's choice) is the best duplicate image removal tool for Windows 11. You may weigh them against each other and select the one that fits your requirements perfectly.
Q. How do I delete duplicate photos in Windows 11?
The manual process to remove duplicate pictures in Windows 11 is lengthy and complicated, unsuitable for beginners, and inconvenient for all users. Therefore, we suggest eliminating duplicates automatically with software like Quick Photo Finder. With Quick Photo Finder, you can select and delete all twin and similar photos in a single shot.
Q. Does Windows 11 have a Duplicate Photo Finder?
There is no native duplicate removal tool in Windows 11 to help you remove duplicate photos, and you need considerable time and effort to get rid of the dupes manually. However, programs like Duplicate Photo Finder may come in handy if you wish to delete duplicate images automatically.