Duplicate Photo Finder
Got Duplicate Pictures? They get really quickly and clutter your photo collection and take up lots of disk space, they are very hard to find if you don't have the right duplicate image finder program.
Duplicate Photo Finder looks for similarities in different images and easily finds duplicates as well as photos of the same pixels, rotated photos, flipped photos, resized photos, and edited images. It supports all popular image formats including RAW, JPG, PNG, TIFF, GIF and much more, which means it won't miss a single duplicate on your PC

Download Free Version Buy Pro Edition Supports Windows 10, 8.1, 8, 7, Vista, XP
32 bit or 64 bit
Why is finding duplicate pictures helpful
People who maintained a large collection of digital media, whether photos or images may end up with many copies of the same images or photos. And if you do not remove all the unneeded copies of the same picture files, your hard disk will become full with images you don't really need. Ashisoft Duplicate Photo Finder helps you find and remove duplicate picture files, which are not needed and thus help you to create a neat and organized library of photos collection.
Duplicate files of all types can be a problem, especially if you're running low on disk space. By using Duplicate Image Finder you can find and remove them easily.
KEY FEATURES
Organize your photos collection
Helps to identify and recover wasted disk space
Lessen backup size and time
Preview for original and duplicate images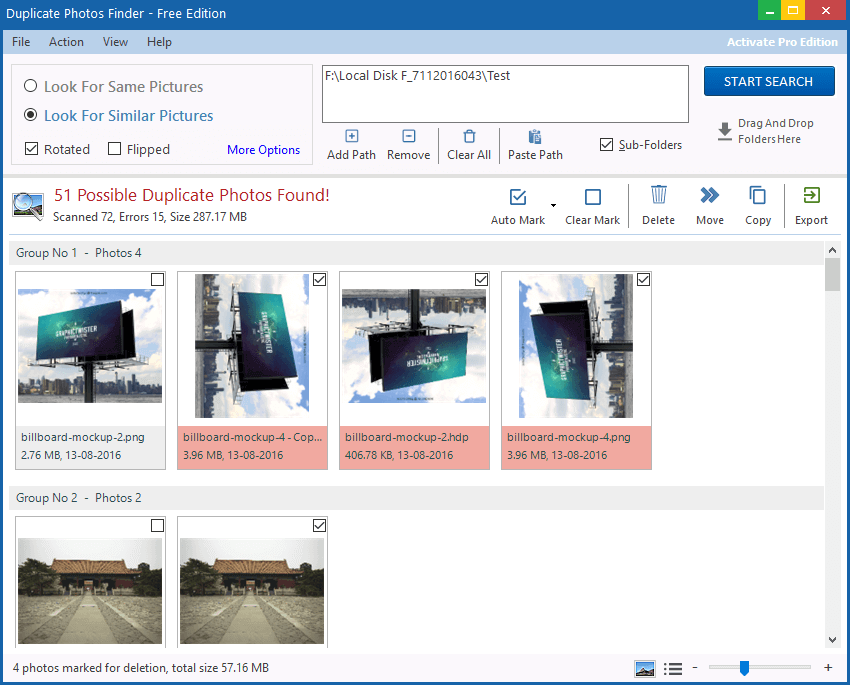 Let Duplicate Photo Finder find all the duplicate photos and recover valuable disk space!

P.S. Duplicate images may also known as repeated, dupe, same, double files, identical or file copy/copies and considered as unnecessary, unwanted, unused, redundant and junk files unless for purpose. The process to remove duplicates is called deduplicate, dedupe, deduplication. Duplicate Photo Cleaner will easily help you find and delete duplicate pictures.