Outlook Duplicate Remover
Outlook Duplicate Items Remover helps you clean up duplicate email messages and contacts in Microsoft Outlook. It is a very fast, powerful and safe add-in tool which processes completely identical items.

Download Free Version Buy Pro Edition Supports Windows 10, 8.1, 8, 7, Vista, XP
32 bit or 64 bit
Find and remove duplicate Emails or Contacts
Outlook Duplicate Remover is the latest duplicate removal add-in from Ashisoft that pays for itself instantly. This duplicate email remover tool will help you to find, merge and remove all the duplicate outlook items. You can look for duplicates in all folders, including Microsoft Exchange and Public Folders or select a folder of your choice. Delete or merge duplicate e-mails and contacts. Select comparison options to find, merge or remove automatically.
Look for duplicates (identical items) in all Microsoft Outlook folders, including Microsoft Exchange and Public Folders or select a folder of your choice. Remove duplicate emails in outlook from a selected folder or across multiple folders.
---

When you start your Outlook next time after the installation you see a new ribbon tab 'ASHISOFT' In Outlook 2007, Outlook 2010, Outlook 2013 and Outlook 2016
---
Why is finding duplicate emails and contacts helpful
As you probably know, Outlook is one of the most complex and resource-hungry software of the Microsoft Office suite. It requires quite a lot of resources for good performance, and the more email items you have, the more memory, disk space and CPU usage it consumes. Finally, it may reach the point when the existing resources do not enough and it will start to slow down in performance. For example, you want to find a particular message using Outlook's Instant Search, but all that you see is "Searching...". And you have to wait patiently while it iterates through all email messages in a given folder including identical ones.
On a normal PC, Outlook begins to slow down when the mailbox reaches 1-2 GB, and if you don't reduce the size of your mailbox and data file (.pst), it may start hanging, freezing and not responding.
KEY FEATURES
Delete all of your duplicated Outlook items quickly and reliable
Remove Outlook duplicates of contacts and emails
Move optionally Outlook duplicates to a specific folder.
Merge duplicated Outlook contacts to one contact.
---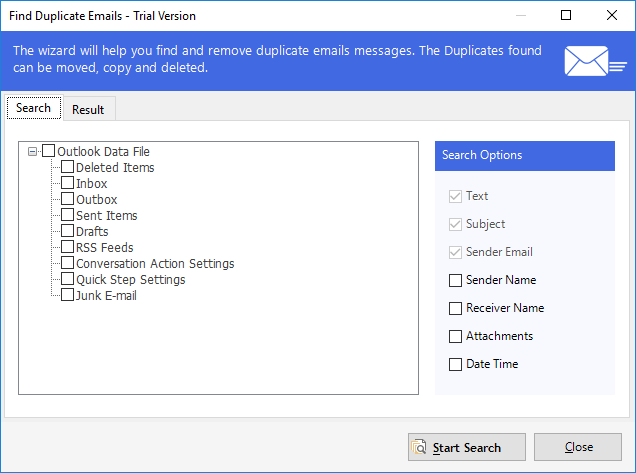 Let Duplicate Email Remover find all the outlook duplicate emails and contacts in your Microsoft Outlook