Free Duplicate File Finder
Duplicate File Finder is a designed to find and delete duplicate files over home and corporate network while no software installed on another computer. Fast byte-to-byte comparison gives you the accurate results and it searches duplicate file contents regardless of filename. A list of duplicate files can be removed, moved, or copied.

Download Free Version Buy Pro Edition Supports Windows 10, 8.1, 8, 7, Vista, XP
32 bit or 64 bit
Why is finding duplicate files helpful
You may not realize how many duplicate files you have after downloaded many files from the Internet or duplicate files scattered over your home or corporate network. Duplicate files are usually waste and unnecessary keeping them is merely a waste of valuable hard disk space. Your hard drives may be full of documents, iTunes, iPod, MP3, Photos, and Videos and many of them are redundant.
Deleting duplicates will help to speed up indexing and reduces back up time and size. Your computer isn't fully optimized until you've removed all unnecessary clone files.
KEY FEATURES
Powerful search engines (byte by byte and SHA-1)
Find files with same contents, same name and zero size.
Find duplicate pictures, videos, songs (mp3, wma, ogg).
Fastest among duplicate file finders and duplicate file cleaners.
Works with removable media devices like pendrives, external hard disks, etc.
Search local PC and over network.
Identify and recover wasted disk space
Reducing the time and media used for backups
Minimize time used to unneeded virus scanning
Increase free space on "limited" resources, like laptops and memory disks
Reduce files searching time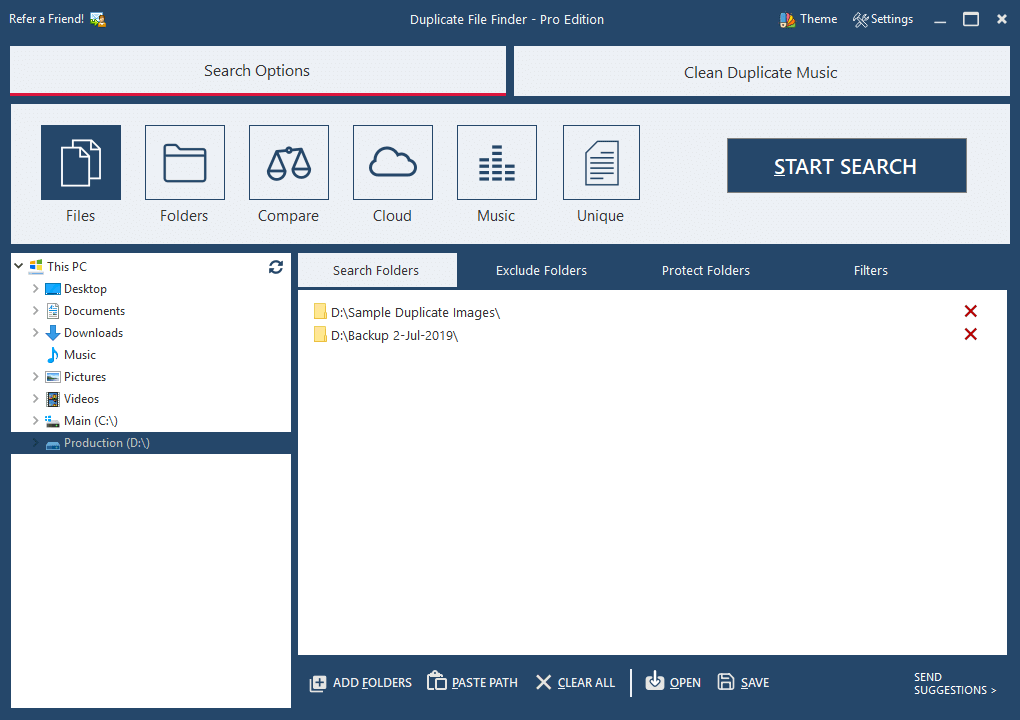 Let Duplicate File Cleaner find all the duplicate files and recover valuable disk space!
Try Free Duplicate File Finder, and you will be amazed by all those unnecessary duplicate files that reside on your computer. And, you can delete them with confidence, without having to compare them visually or by some other means.
P.S. Duplicate files may also known as repeated, dupe, same, double files, identical or file copy/copies and considered as unnecessary, unwanted, unused, redundant and junk files unless for purpose. The process to remove duplicates is called deduplicate, dedupe, deduplication. Clone Remover will easily help you find and delete duplicate files.

Checkout our new Data Scrubbing Software and Find Duplicate Files and Outlook Duplicate Remover and
Hash Calculator and Top 5 Best Duplicate File Finder and Google Photos Duplicates Removal