If you don't have a flawless memory or have a well-organized record of your tracks and playlists, you'll have at least one duplicate song within your library. Finding duplicate files through a listening session of your music collection is not feasible. Finding duplicate song files is excellent for cleaning your music collection and reclaiming storage space on your hard drive.
Many people are looking for ways to eliminate duplicate music files from Windows 10/11. We have provided the most effective methods to delete or remove duplicate music files on your device quickly.
Editors Choice!
We have identified 5 of the most effective Duplicate Music Files Remover and Finder software that can easily remove duplicate music and other duplicate audio files like M4P, mp3, mp3 WMA, etc.
Top 5 Duplicate Song Remover windows 10 and 11
---
How To Find Duplicate Songs
The five top similar song finders listed in this article can provide songs identical to your song within seconds, and you can easily find and delete duplicate songs instantly.
---
1. Duplicate Music File Remover: –
Duplicate Music File Finder is an excellent choice if you want a reliable software program to delete duplicate music files. This software is impressive and can find duplicate files on Windows 10/11. It will also free up disk space with 100% accuracy. You can preview files before you delete them. It also allows you to organize files, improve performance, and customize search criteria.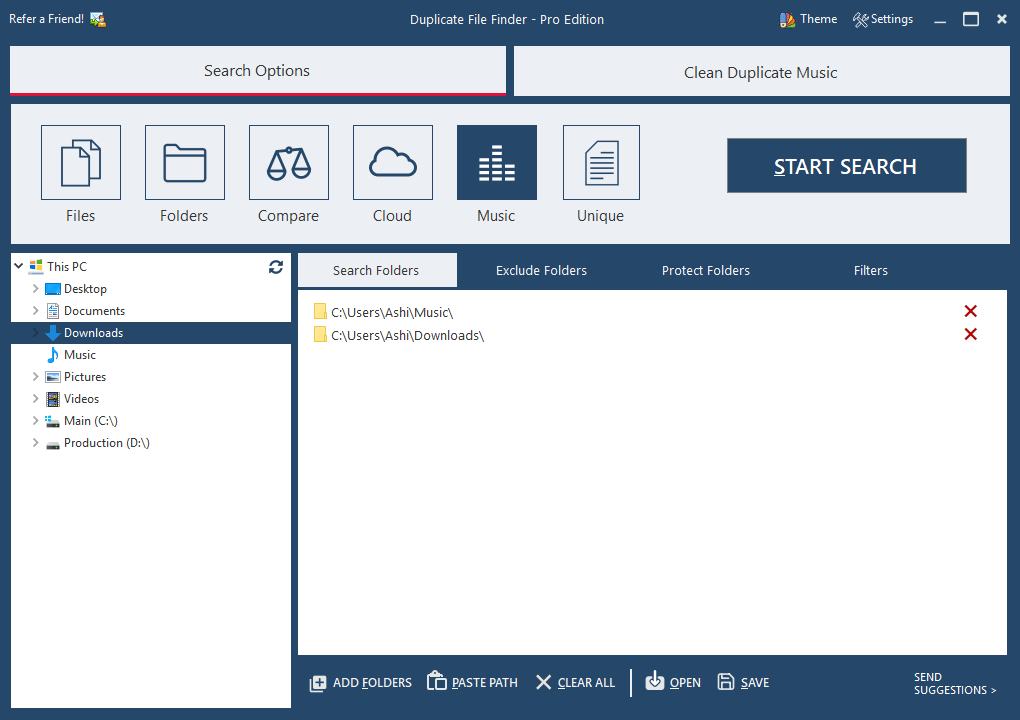 This free Duplicate Music File Remover can deep scan many music formats, including MP3, M4A, M4P FLAC, and OGG. APE, etc.
---
2. AllDup: –
AllDup offers a robust set of features to help you find duplicate files. You won't find these features in premium versions of other similar tools. One of its best features is the ability to search multiple folders or hard drives simultaneously and compare files from all sources or within the same folder. This tool is more precise than other duplicate music remover. AllDup also allows you to compare files by byte, file attributes, and other standard criteria like name, extension, and size. You can scan within ZIP and RAR files and include or exclude certain file types.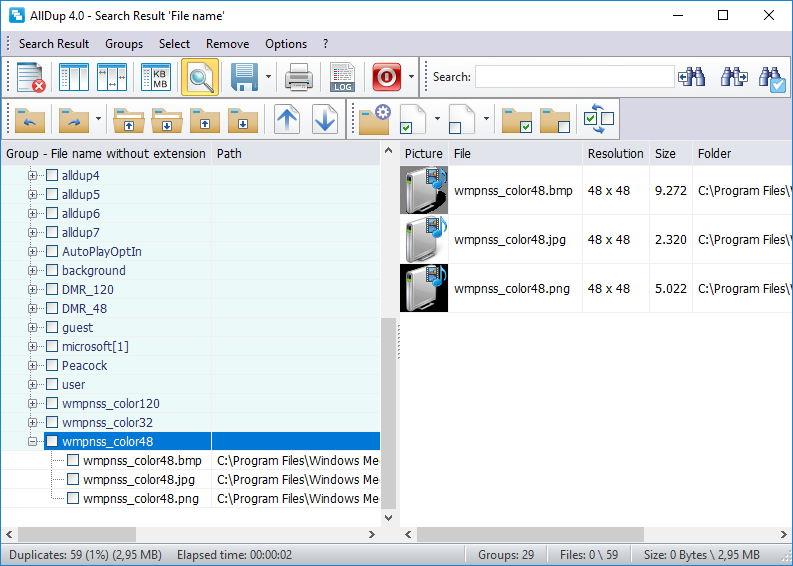 The software also allows you to preview the music and not leave the program. Duplicate Song Remover is available in both a portable and standard version.
---
3. Similarity: –
The Similarity is an excellent freeware program that finds duplicate music files. It employs advanced algorithms to compare audio files based more on their sound content than binary patterns. Similarity can also scan MP3 tags. There is an experimental mode that allows deep scanning. The Results tab displays the results. Right-click files to access options such as a spectrum or sonogram analysis to determine their similarities. The program can use many lossy and lossless audio formats, such as MP3, WMA, and OGG.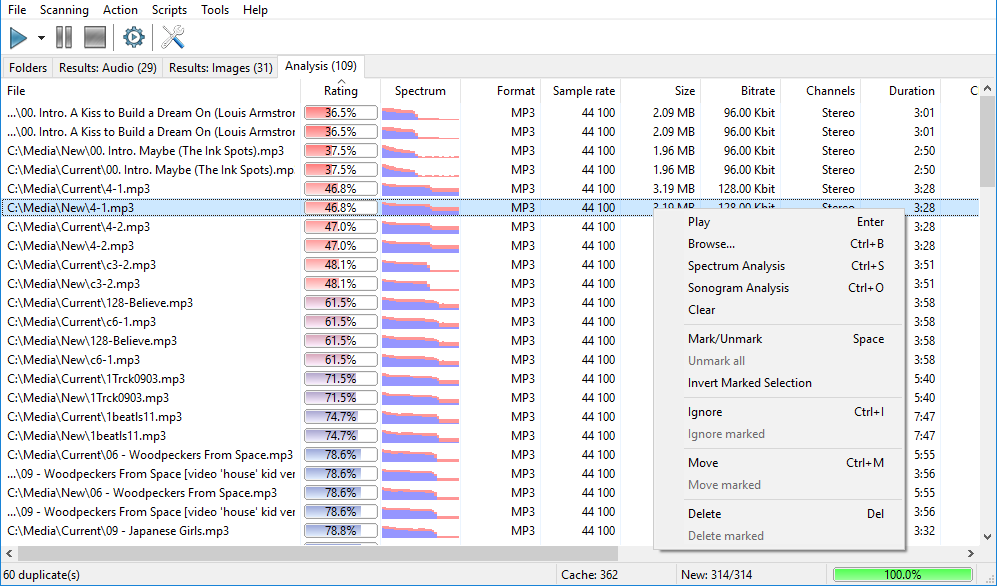 Similarity can be used to find duplicate music files. Similarity offers a deep scanning mode that allows for visual representations. The tab "Results" displays the results. To view a spectrum and perform a sonogram analysis, right-click the files. MP3, WMA, and FLAC are supported.
---
4. Duplicate Music Files Finder: –
Duplicate Music File Finders can help you detect duplicate files. You can see the files' excellent quality and decide whether to delete them. This Windows program is one of the most popular when it comes to music software. This software is easy to use and can tell you if your copies are good quality.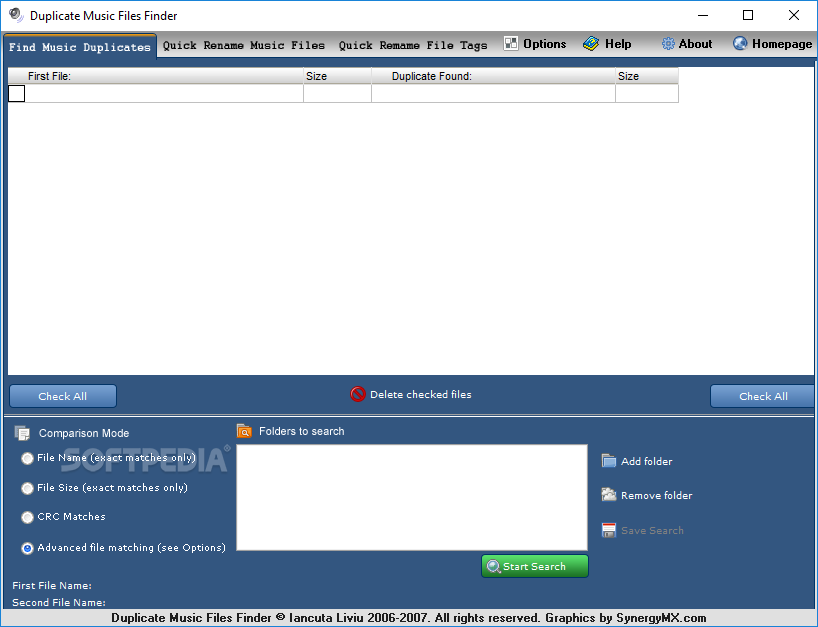 Features
This duplicate music finder is easy to use and uses an advanced algorithm to locate and erase duplicates.
It recognizes duplicates even if they do not share the same music file name.
You can play the files before you delete them. This allows you to see if they are duplicates.
The Duplicate Music Remover also offers a range of management options to manage your music files.
---
5. Duplicate Audio Finder: –
The interface is simple to use and offers a wide range of options to refine your search. You can quickly mark files to be deleted using the selection assistant. Criteria may include audio tags matching the artist, title, or album as well as genre, length, year, and comments. You can also have the search ignore tags and only search for duplicate audio data. Search filters can filter files by creating and modifiable dates, file size, and extensions and by searching through Zipping archives.
You can use the selection assistant and mark what you wish to delete. You can keep the longest file, the smallest and most well-known name, or delete all duplicates except one.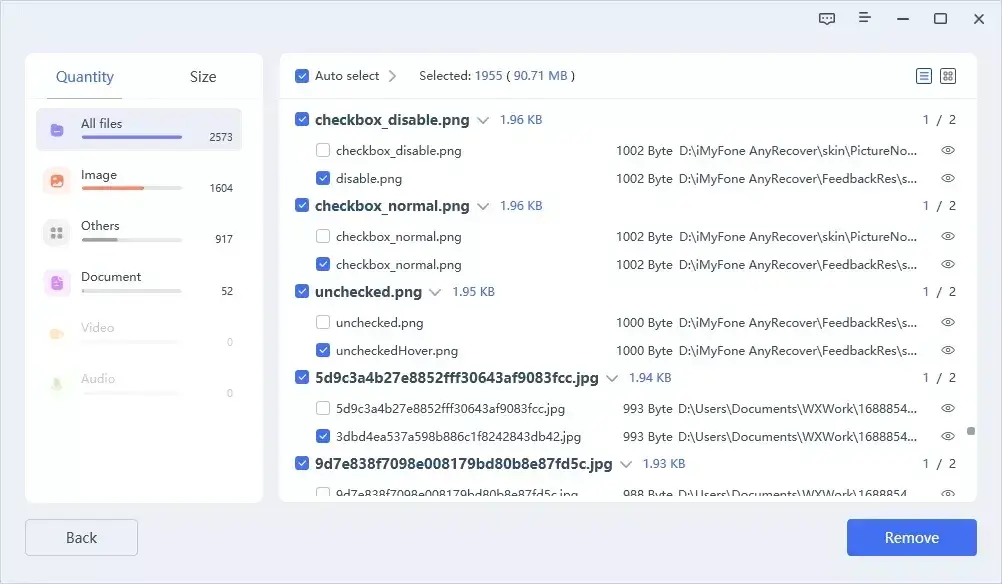 This professional music searcher can locate and delete duplicate MP3s from your PC. Drag and drop the folder to the program and scan it for duplicate audio. Duplicate Files Finder will quickly display a list of duplicate music files.