Are you looking to create a printout of all files within a directory or folder? There are various options to print it using the CMD solution and third-party software.
These directory listing softwares lets the user quickly print list of files in folder or save a directory's contents. They come with various options, such as listing the contents of a selected folder and saving the report as CSV, HTML, TXT and XLS, DOC, or other formats supported. Some allow printing directly to a printer. You can use this print listing directory program to manage your MP3 databases or create an MP3U playlist manually. Some of these are portable and do not require installation and more.
Editors Choice!
We'll demonstrate five different methods to print folder content in an outline.
Get list of files in folder windows 10 and 11
---
1. Print Directory: –
Sometimes, we need the particular windows directory listing (name of folders/files, the dimensions of files/folders and so on.) of a directory or folder. If we want to index folders and files on DVD or CD, there is software to aid in precisely that. Print Folders software provides details of the folder's contents in a simple and ready file format that can be listed and printed.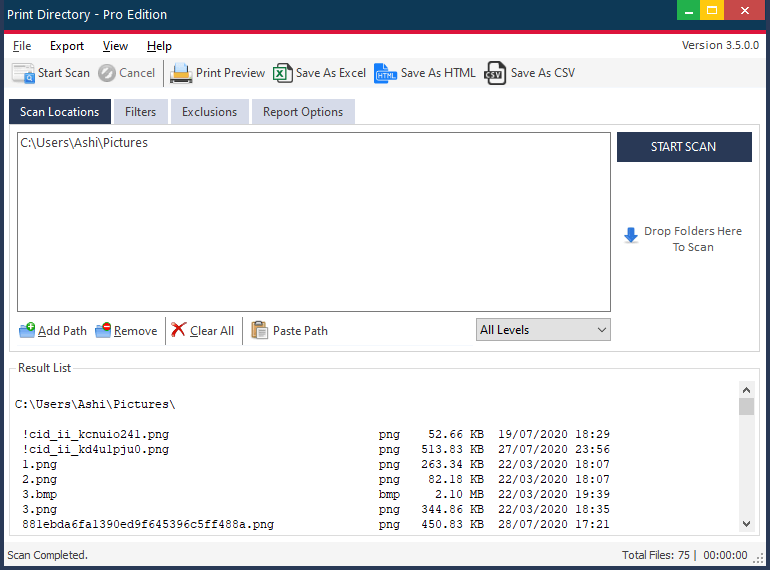 One convenient feature of Print Directory is the ability to add an option to the Windows Explorer context menu for directories. It lets you quickly generate a listing for a directory from Windows Explorer. To do this, you must run the program as an administrator—Right-click on the .exe file and select Run as administrator from the popup menu.
---
2. How to print a file list from a folder
Here are some swift and straightforward instructions on creating a text file listing all files and folders in a specific Windows directory. It'll only take a minute.
Print file list to a txt file
In File Explorer, go to the location of the folder in which you want to print a contents list.
Press Alt -> D on your keyboard (the address bar of Files Explorer will now be in focus).
Type cmd and press Enter. (the command prompt will open in the path you chose above).
Copy and paste the following to the command prompt:
dir > files_and_folders.txt
Press Enter on your keyboard.
---
3. Kiran Directory Print
Are you looking for a graphic tool that does the same task? I'd recommend Karen's Directory Printer. I used it a few years ago to create weekly print logs for files. It's simple to use but offers a packed interface. All you have to do is pick the directory, select the attributes you'd like (file dimensions, the date it was of creation, the file was created, and extension) and then press Print.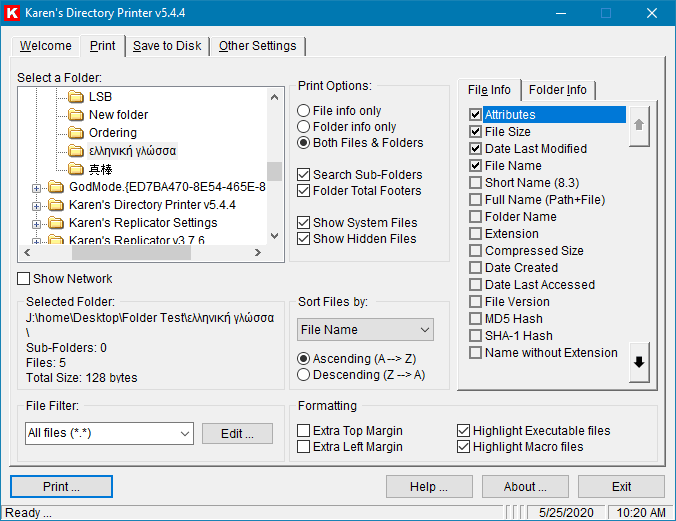 It can list tons of information about Files in its report, including file name, path, extension, attributes, MD5 hash, various SHA hash values, cmd print directory tree, etc. Similarly, Folders can show folder name, short name, parent folder, size, attributes, date created, modified, accessed, number of files etc. You can apply a file filter to the results. You can also configure it to Drive or Folder context menu. You can also sort file names in ascending or descending order. Apply formatting effects to the output before printing, like the Top and/or Left margin. You can save the results to the disk by clicking the "Save to Disk" button on the "Save to Disk" tab.
---
4. JR Directory Printer
JR Directory Printer is a free program to display windows directory list within an input directory. To use it, you must use the "Run as Administrator" option from the context menu. You can select the format of display based on different settings on the Display tab, such as size, data, Time and Attributes, etc. You can select the "Recurse Subdirectories" alternative to include subdirectories in the report. It creates the "DirPrint.txt" named file within the installation directory. It is possible to run multiple instances of this program. However, it will overwrite the TXT output file each time. When creating text reports, you can also use lowercase file names and DOS format filenames. It will remember the last time you opened a directory.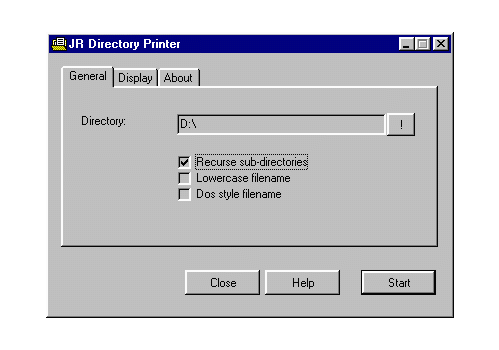 Select the folder you want to list directory contents, select whether you'd like to repeat (include) all its subfolders and if you prefer to use lowercase names for your files, click to start. It will create and open a file named DirPrint.txt, which can be edited or copied elsewhere.
---
5. Arclab Dir2HTML
Arclab Dir2HTML is software free to create HTML indexing files for any folder you wish to index. The first step is to select the input folder through browsing and then assign the name of the HTM output file by clicking the "Select output" button. The mask can be set to *. * to cover all files or alter them to match the specific file types (e.g. *.mp3). It can support recursive folder indexing options too. You can set various display options and HTML formats of the output, such as the page title, font, text colour, font size, and more. The program creates an HTML report for you once you press the Start button. It has an easy user interface.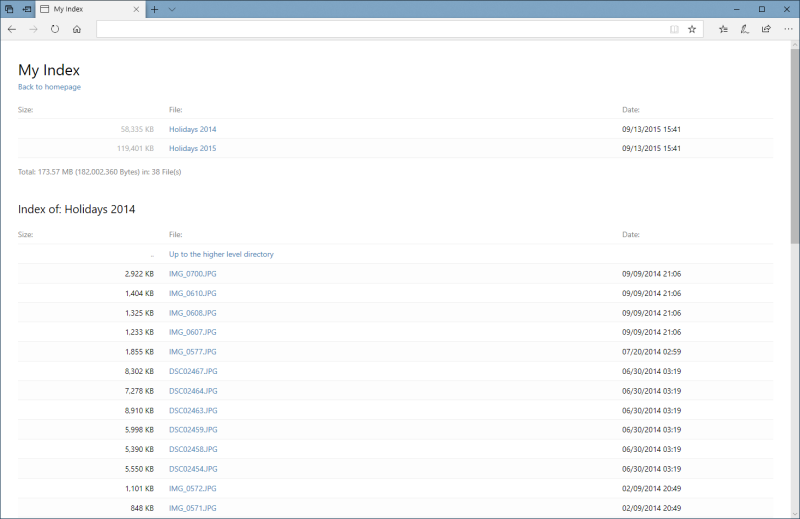 Arclab Dir2HTML can be described as a directory to HTML index converter that creates an HTML index file of directories and the files on your network or computer. The list of files could include subfolders (recursive search) or a single folder. Dir2HTML can index large file structures or entire drives in one click. It creates one-page indexes that include a subfolder section, a one-page index with no subfolder sections or a multiple-page index using a separate index file for every subfolder.
---
How Do You Print Directory Contents?
Windows might not be able to print folder content in a user-friendly manner; however, thanks to solutions and freeware available, it's simple.
The above directory listing program allows you to create or copy the information from the selected directory in a snap. The Print Folder software is available for free for Windows PC.
---