Simple Steps To Find And Remove Duplicate Files
STEP 1 - Select the Search Engine...
Select the search engine which you want to use to locate duplicate files. Search Engine defines the means by which Duplicate File Finder compares files to determine whether or not they duplicate one another.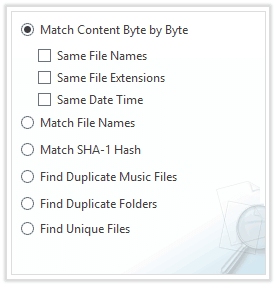 STEP 2 - Add the Locations where you want to look for duplicate files...
You can add multiple locations including network paths. Please click on Add Path button and add as many folders or drives as you like to scan for duplicate files.
After adding locations click on the "START SEARCH" button to begin the scanning process. It can take some time depending on your system and on the number of files in the selected locations also some searching algorithms are more time consuming than others.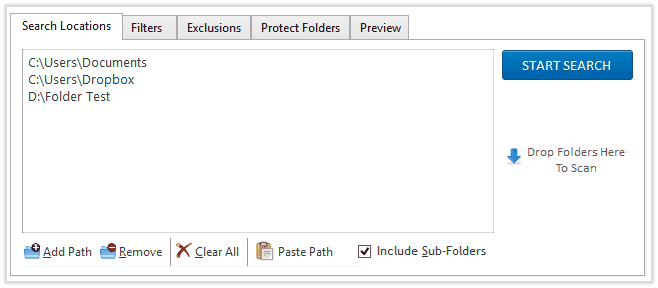 ---
Filters Options - Pro Edition
If you want to search for predefined file types, press the File Mask option and select one of the options. You can also select the appropriate file size and date range if you want to restrict the search according to file size and file age.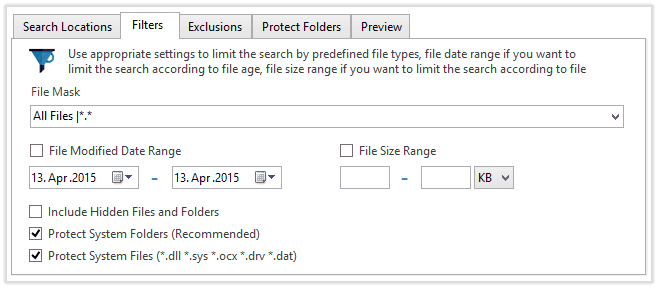 Exclusion Options - Pro Edition
You can list folders and file extensions that you want to exclude from scanning. Folders and ­file types listed in Exclusion list will be ignored during the Scanning Process...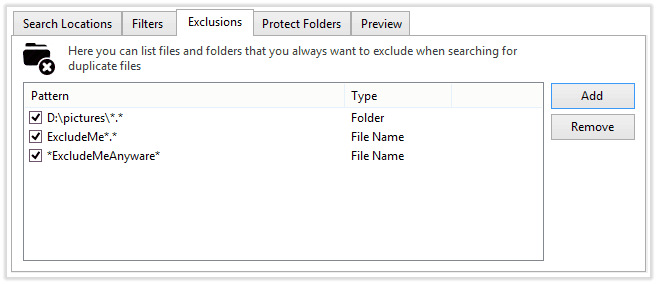 Protected Folders - Pro Edition
You can protect all files found in a specific search folders from Accidental Delete. Files in the Proctected Folders will be marked with color in the Result List.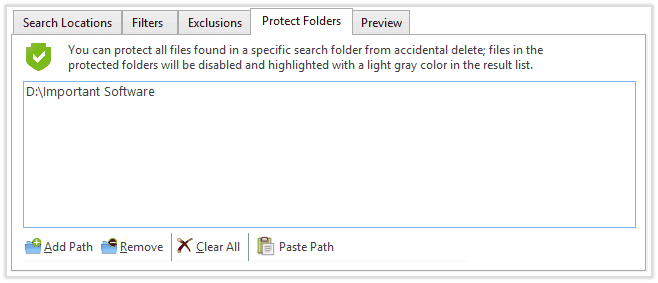 ---
STEP 3 - Take Actions
After search is completed, you should review search result to verify if they are duplicates by previewing images, opening files and folders.
This is the list of all duplicate files found using the search-criteria. You can view the list, export it to a text/xml/html formats. And, most importantly, you can choose which files to process and either delete them or move them.
Delete Files - This link allows to delete the files. You can delete files permanently or move them to Recycle Bin.
Move Files - This link allows to Move the files to specified folder.
Copy Files - This link allows to Copy the files to specified folder.
Rename - This link allows to rename files.
Note: The output list includes both original files and duplicates! You need to be careful when you delete or move files.