Find Duplicate Files Using Ashisoft Duplicate File Finder Tool!
Nowadays having a main hard drive with 1TB of capacity is the most normal thing in the world, which has given rise to worrying levels of the so-called Digital Diogenes Syndrome, to the extent that you probably even have same files floating around in different places on your hard drive. Luckily, there are programs to do complex file searches to find the duplicates.
Find Duplicate Files Windows 10
Duplicate File Finder is a free tool for Windows and Windows 10 PCs that allows you to deal with enormous quantities of information, providing a powerful file search engine that can detect duplicate files and folders using a huge array of criteria.
It can find and remove duplicate files fast and accurately, it is one of the best duplicate file finder which allows you to find the same photos, videos, documents, spreadsheets, musics, etc.
Find and Remove Duplicate Files in 3 Simple And Easy Steps
Download and install Ashisoft Duplicate File Finder on PC. Then open it.

Select a folder or multiple folders to scan by clicking the "Add Folder" button on the left or directly dragging your folders to the large central icon and then click the "Search Now" button on the right. Duplicate File Finder will start to deep scan the whole folders.

When the scanning finishes, the results will be presented all together. You can delete those duplicate files to free up space on your Windows PC.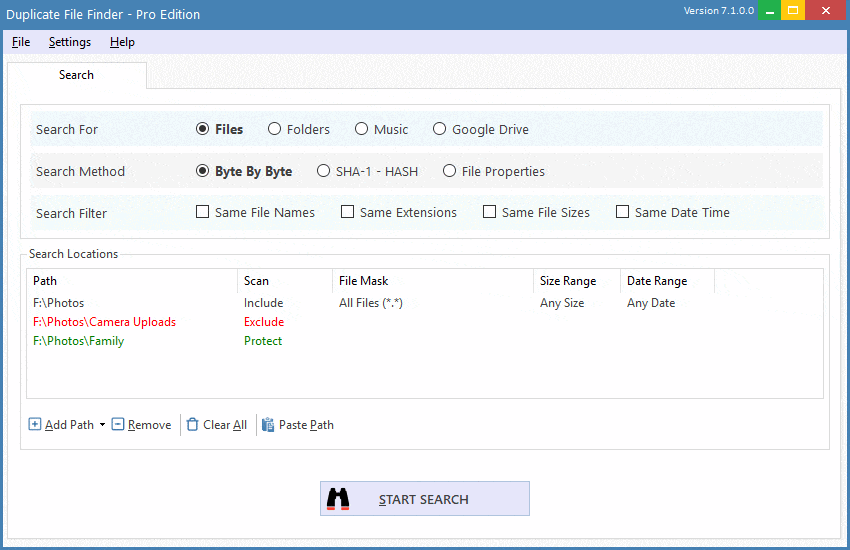 ---
Uninstall Unused Apps to free-up more disk space
How many times have you ever installed an app that you simply don't find yourself using? Individual apps needed many files to get them to work properly – They will occupy hundreds of megabytes, even gigabytes. That's disk space you'll be able to use for additional important stuff.

Take a close look at your Applications folder and see if there's any unused junk you can safely remove. If the aplications comes from a service like the Windows Store, you will be able to download it again for free if and when you actual need it. Apps you've installed through other means – DVD installers or from third-party stores whose policies may differ – may need their own archive. Make sure that you have a backup in case you need to restore the App. Also make sure you have registration or activation details stored in a safe place. You'll need it if you reinstall the app.

Games are particularly egregious hard disk space waste offenders. Some games will grab dozens of gigabytes of space, especially if they have lots of levels or high-res artwork. What's more, game management applications like Steam hide the game files from view. That can make it difficult to figure out how much space is used.

Dragging the app icon into the Recycle Bin may not delete all of the software. Many apps include an uninstaller utility, which you should use when given the choice. Some app developers offer custom uninstallers you can download from their website. Apps can leave a trail of supporting files and caches in hidden spots on your hard drive. These files can be hard to track down without an uninstaller tool. Some app makers also include step-by-step instructions for removing their app.