Fast and Easy Way To Clean Duplicate Files
In Windows 10
The Duplicate File Finder tool from Ashisoft can save a lot of valuable data storage space and even improve the overall performance of your Windows computer. This guide will walk you through a set of quick and simple steps on how to clean duplicate files in Windows 10 using this free deduplication software from Ashisoft.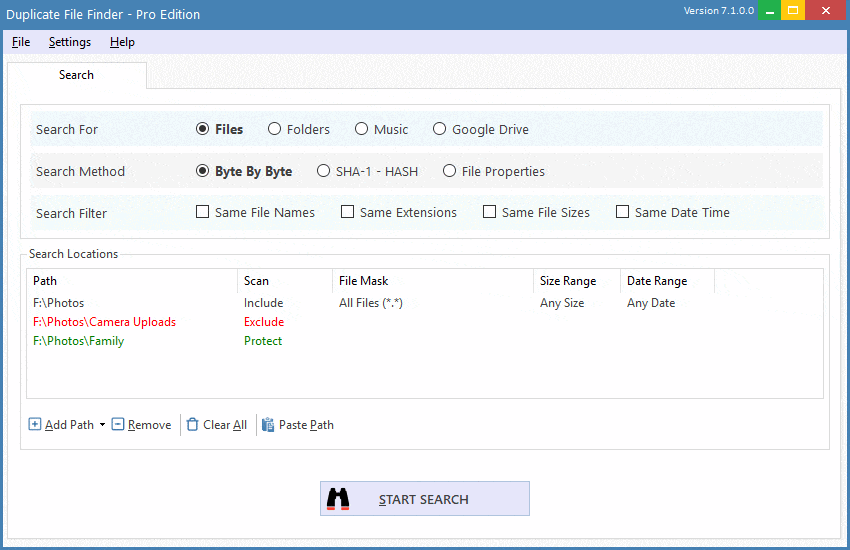 Step 1
Click the download button above and then, select a location in your computer and click "Save" in the dialog box that'll appear afterward. The program installer will be saved in your computer. You can then double-click on the program installer so as to initialize the installation process. Afterward, follow the instructions in the succeeding prompts that will appear during the installation process.
Step 2
Select the search engine that you want the program to use. This tool will use your chosen search engine to find duplicate files within your Windows 10 computer. This deduplication software will also provide details regarding the file comparing processes that it performs to accurately determine if certain files are indeed duplicate copies.
Step 3
Select the drives, directories and sub-directories of your windows computer that you want the free duplicate file finder software to search in. For Example, you can choose to just look for duplicate files within your entire C drive, your My Pictures folder, your My Documents folder, etc. Network drives, folders and sub-directories are also included as location option. Click "Add Path" each time you want to add a location. You can choose as many drives and folders as you want.
Step 4
Click "Start Search" to initiate the scanning process. Wait for the search to complete, which may take some time depending on the size and the number of files inside each of the drives, directories and sub-folders that you chose to scan.
Search Filters
To find pre-defined file types, click "File Mask" and select any of the provided options. This is a special feature of the Ashisoft Duplicate File Finder software. When you use the "File Mask" option, you can immediately specify the drives, directories, sub-directories and file types that need to be processed or ignored.
Protect Important Folders
Select the "Protected Folders" option if you want certain drives, directories and subfolders to be protected against accidental deletions.
Export Results
After this free deduplication software has performed all necessary processes, you need to check the search results to determine if there are indeed duplicates found in your drive. You can conveniently do this by opening folders, files and previewing images from the search results, which is a complete list of all duplicate files (if any) that were tracked down using the search. You can either look at the list via the interface of this program, or export it to HTML / XML / TXT. You can then decide which files you would like to delete or move from your computer.
---
Clean Duplicate Files In Windows 10
This is how to clean duplicate files in windows 10 using the Free Duplicate File Finder software from Ashisoft. This free deduplication tool is easy to use program with a simple to operate interface. Powered by a special data compression engine commonly used in advanced data storage applications like Backups and SANs, you can use this free duplicate file finder software to effectively maximize the available data storage space in your Windows system.
This can in turn also boost the performance of your computer, since Windows will be able to use more free space in your system partition for virtual buffering, storing temporary documents and for streamlining the processes involved in the paging file system of your computer.
This free deduplication software is also integrated with functions for speeding up network data transfers. This is performed by optimizing and compressing network data transmissions.
There are many other features available in the free Duplicate File Finder software from Ashisoft, making this tool a top rated pick by a lot of beginners and seasoned Windows users. Learn how to clean Windows 10 now with this free deduplication tool by reading the quick and easy steps below…