As we keep using our Windows PCs and Mac OS, we tend to accumulate tons of files, photos, and music files. There is a high probability for the accumulation of duplicate files over time which is taking valuable disk space on the computer, they even reduce the overall performance of the system.
Duplicate files cause problem not only because they clutter your storage space. But also because they might cause unnecessary lags, especially when the specific file is large. Your computer system doesn't come with a tool to handle these tasks. And it's tough to manually go through all your folders to pick and get rid of the duplicates.
Delete Duplicate Files in Windows 10 with the Bestest Duplicate File Finders
The safest way to eliminate duplicate files and recover storage space is to use the best duplicate file finder and remover tools.
Here are we list and sort the top 10 best duplicate file finder to get rid of duplicate and similar files. It would be a wise thing to manage your space efficiently.
1. Duplicate File Finder: –
Duplicate Files Finder tool will impress you with its powerful search methods (byte by byte and SHA-1 Hash or based on File Properties). You can free up a lot of hard drive space by detecting and removing duplicate files. It matches file contents regardless of file name, date, time, and location. Which gives us a 100% accurate results without any false detection.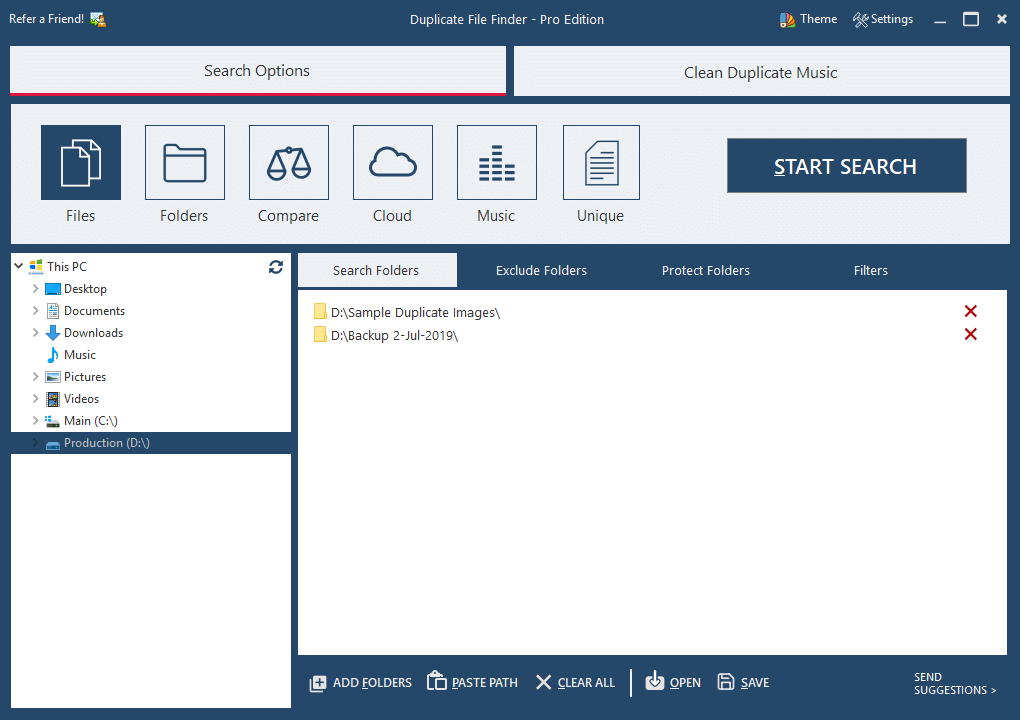 Having said all of that, the best part about it is that it's extremely fast in finding duplicate files and folders, thanks to its algorithm. Not to mention, It also offers you to filter results in multiple ways to weed out false duplicates, and then you can quickly move the files or delete them in a user-friendly interface. If you are looking for a versatile and powerful tool, then it is up for any task you throw at it.

Always remember to limit your searching location to just your user folders and do not add anything from the operating system's folders, as that can negatively impact the stability and operation of your computer.
---
2. XYplorer: –
XYplorer is a file manager for Windows. It features tabbed browsing, a powerful file search, a versatile preview, a highly customizable interface, optional dual pane, and an extensive array of unique ways to automate frequently recurring tasks efficiently. It is fast, light, and portable.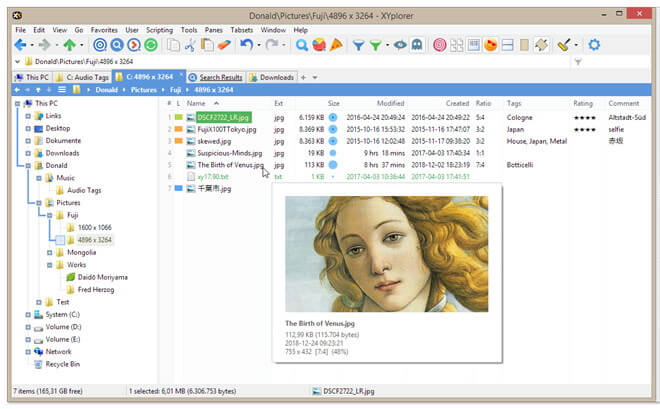 XYplorer does come with a "Dupes" detection feature. The option lies within the program as Find Files feature, and there you can find out duplicates in your search location. It's recommended because of how it compares copies – listing them by Name, Date Modified, Size, and Content – and how it presents all duplicates found in the grouping for easy cleaning. When finding copies by Content, you can either use MD5 or even make abyte-by-byte comparison, which, although slow, is the most accurate method out there that exists.
There used to be a free version that but discontinued as of January 2017. Maybe with a little search, you might still find the free version online with the caveat of not getting any future updates. XYplorer is now a paid product that costs $39.95 for a single-user license. You can download the free trial version from the website.
Download XYplorer for Windows (Free trial, $39.95)
---
3. Gemini2 - For Mac OS Only: –
Locate and remove duplicate files, even if they're in remote corners of your system. Gemini 2 scans your whole disk speed-of-light fast, no matter how massive it is. Dig through scan results and hand-pick the files to erase, or better — let Smart Select do all the work.
The software's front end has a large plus button click on it to add folders/locations where you want to search for duplicate files. After that, click on the green Scan for Duplicates button, and sit back as the software builds a map of your folder(s) and find out the duplicated files; it will display an estimate of how much space can be saved.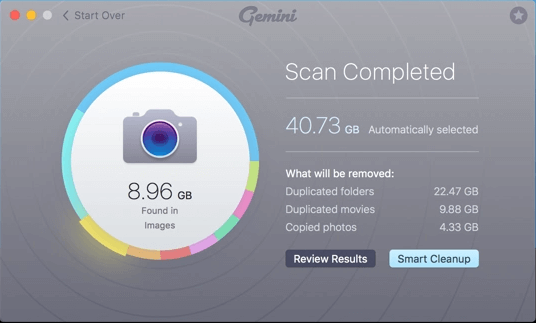 Gemini crafted carefully to be super simple. Whatever you need to do — view duplicates in detail or quickly destroy them — it takes a few clicks. Because that's what a good duplicate finder does: makes things simpler.
Download Gemini2 for Mac OS (Free trial, $45.95)
---
4. Tidy Up 5: –
Tidy Up 5 organizes the result separating the found items by file kinds (music, images, PDFs, folders, etc.). It's completely customizable and allows you to add more file kinds at your choice. The new organization is based on the tab separation, and each tab has its settings, such as smart boxes, separation by searched sources, view by grid or list, etc.
This software organizes the search results and categorizes them neatly based on their type (folders, images, music files, videos, and PDFs). The new organizational structure is design to simplify the review process. Each of the tabs has unique settings, including smart boxes, view by grid or list, and search sources.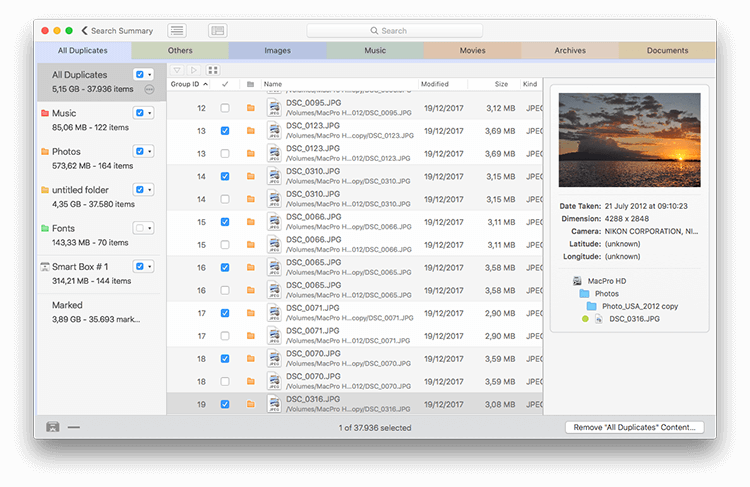 The Tidy Up 5 comes with two different modes, which are both easy to navigate. The Simple Mode comes with up to 80 various pre-defined smart searches, while the Advanced Mode offers a more customized way by refining the search criteria. The newly redesigned interface is not only easy to use but also very powerful.
Download Tidy Up for Mac OS (Free trial, $29.99)
---
5. AllDup: –
AllDup is a freeware tool for searching and removing file duplicates on your computer, network shares, or external storage media. The fast search algorithm finds copies of any file type, e.g., text, pictures, music, or movies.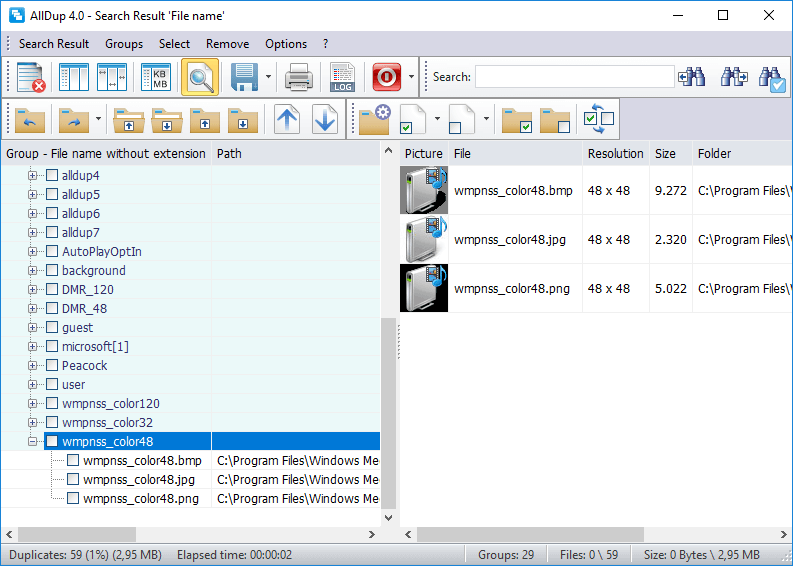 The powerful search engine enables you to find duplicates using the following criteria: File Name, File Extension, File Size, File Content, File Dates, and File Attributes.
You can also search for similar file names, or almost identical pictures and similar or nearly similar music files. Furthermore, you can find video & audio files with the same or almost the same audio length or search your hard disk for Hard Links.
Download XYplorer for Windows (Free Version)
---
6. CloneSpy: –
CloneSpy not only finds the duplicate files but also acts as a duplicate file remover. Once installed successfully, it scans the computer for duplicate files according to the user's customization options. It can find any files, including photos, documents, photoshop files, images, and more. Before removing the files, you have the option to review the results and delete all those unnecessary files accumulated.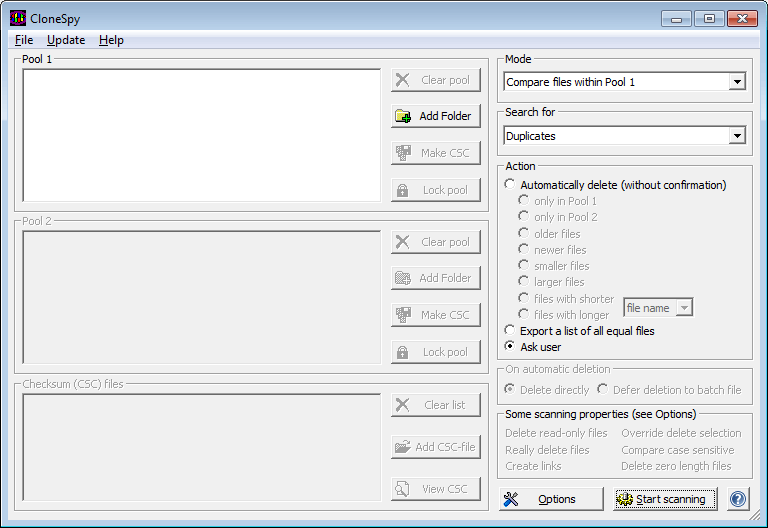 With CloneSpy, you can build checksum files from files on DVDs (or even on hard drives, etc.) and use them to check whether these files already exist on your system. The checksum files will prevent you from having to play DJ every time you search for duplicates!
Download CloneSpy for Windows (Free trial, $49.95)
---
7. Auslogics Duplicate File Finder: –
Another duplicate finder program that can run the task of finding the identical files is Auslogics duplicate file finder. It is designed primarily to scan for those unnecessary files on Windows PC and delete them to save some space on the device. But it can also check your specified folders for duplicates and presents them in a neat interface that makes it easy to manage the found culprits. There are various search parameters that you can define, including file types, minimum/maximum file size, names, creation dates, etc.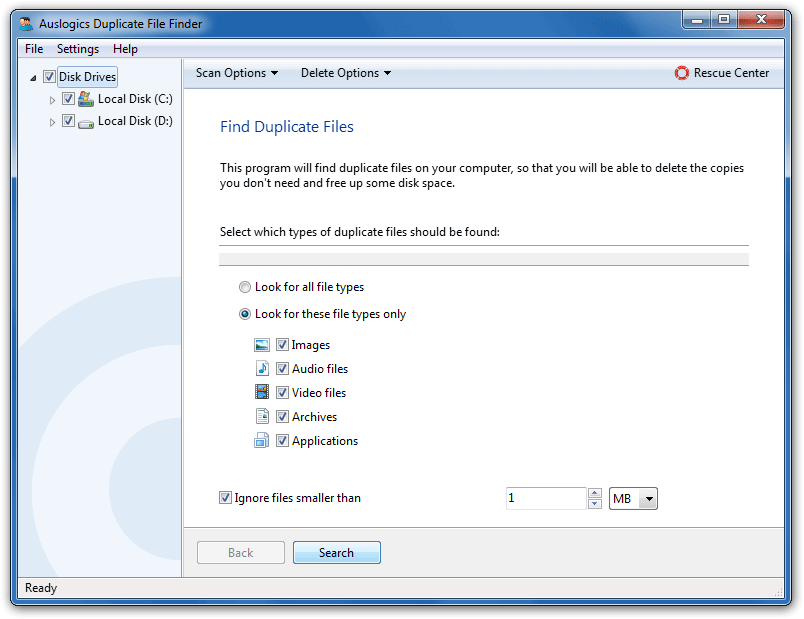 Auslogics Duplicate File Finder is a free solution that offers the same features that several tools would charge you. Download Now
---
8. Double Files Finder: –
Double Files Finder is an application that searches for duplicate files (files that have the same content, but not necessarily the same name) and lets the user remove duplicate files, either by deleting them or creating links. The search is fast compare to other similar programs that use hashing algorithms.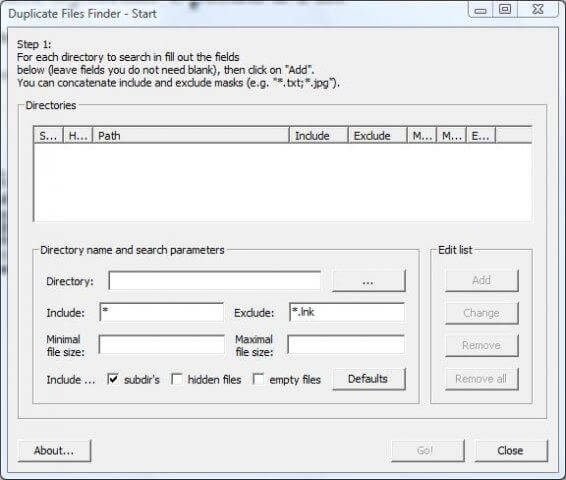 Download Double Files Finder for Windows (Freeware)
---
9. Wise Duplicate Finder: –
Wise Duplicate Finder is one of the reasonably capable duplicate file finders for Windows PC. It uses the file name, file size, and content to find duplicate files on your system. The app is good at finding and deleting duplicate files to release storage space on your system.
The Wise Duplicate Finder supports almost all kinds of file types, including images, videos, documents, etc. So, no matter which duplicate files are hiding on your computer, it can efficiently find them. Another useful feature of this application is that it can also find empty files and remove them for you.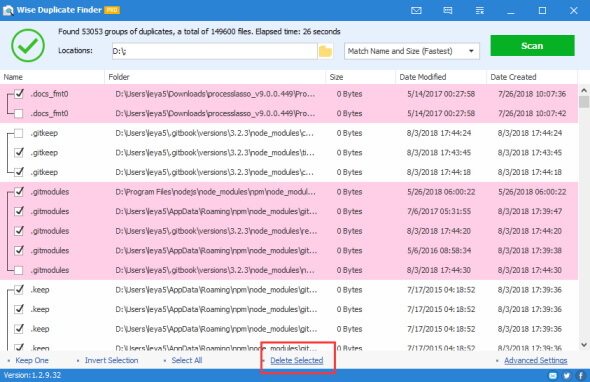 When you do your computer's cleaning process, some remaining files are left behind to mess your system. Rather than finding and eliminating such files one by one, you can use Wise Duplicate Finder to deal with them.
Our favorite feature of this program is the backup and restore, which allows us to recover files that I may have deleted by mistake. It adds a layer of protection, which will enable me to delete duplicates without any doubt. The app is free to download and use for a period, and then you will need to upgrade to the paid plan, which costs so much money.
Download Wise Duplicate Finder for Windows (Free trial)
---
10. Duplicate File Detective: –
Duplicate File Detective is another paid utility that offers added features than you can count. While finding and removing duplicate files are there, and in addition to that, you can scan network drives and replace duplicates with symbolic links to the original files. They provide many reporting options on detected duplicates, including file owner name of the duplicate files (handy for MS Office files, for instance).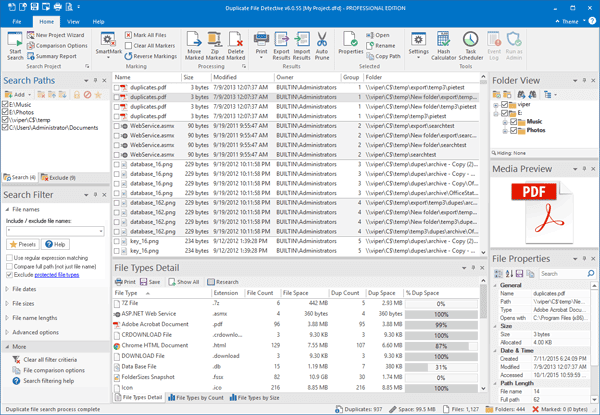 Reporting of file types and hash values, and you can export reports or even scheduled for automatic emailing. In a nutshell, Duplicate Files Detective takes not just finding and removing duplicates to keeping tabs on what those were and how they came to be. The user interface is very similar to MS Office products, so it is a very familiar utility you regularly use.
Download Duplicate Files Detective for Windows (Free trial, $55)
---
Conclusion
I hope the ten great duplicate file finders review was helpful when you're making your choice. Some of these duplicate file finders are powerful. In the end, since almost all the paid solutions provide a free trial or demo, we recommend giving these a try yourself and see which one works best for you. And drop us a comment if you have further recommendations or feedback.