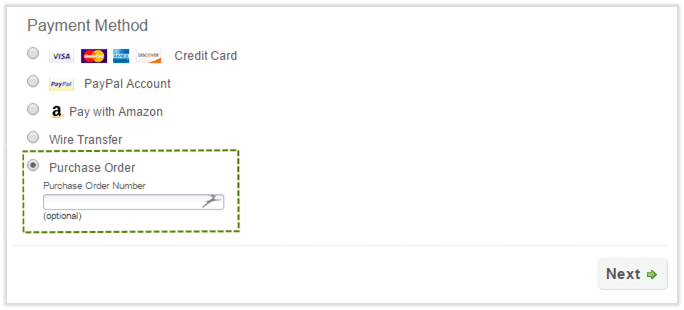 1. Fill out the order form, including your company's Purchase Order number if applicable.
2. FastSpring will accept your order and provide you with a link to a formal invoice, along with payment instructions. This will be provided on-screen as well as by email. Please print the invoice and submit it to your company's Accounts Payable for payment.
3. When FastSpring.com receives payment, they will send the registration details by email to to you. Please be sure to include the email address of either your accounts payable department or the end user to ensure delivery.
4. A $3.00 handling fee will be charged by FastSpring and will be added to your invoice. This is to cover processing of payments received by mail. This can be avoided by completing the purchase with a credit card.
If all PO information is complete, FastSpring customer service will be able to process your order without delay.
If you have more questions about placing purchase order through FastSpring please do not hesitate to Contact FastSpring.
FastSpring Bright Market, LLC
11 W. Victoria Street
Suite 207A
Santa Barbara, CA 93101
USA

Email: info@fastspring.com

Phone: +1-877-327-8914 (Toll Free in USA)
Phone: +1-805-409-9008 (International)